This smoothing plane is a necessary component of your hand tool collection, with the ability to smooth an array of timber surfaces with little to no sanding required. The plane can be used as a plane or as a scraper, which ultimately provides you with two tools in one. To use the plane in planing mode you place the blade in bevel down, which results in a blade pitch of 60 degrees. By reversing the blade to bevel up you are effectively creating a 90 degree blade pitch which is the same as a cabinet scraper.
We have designed our planes to have a 60 degree blade pitch due to the superior results you will achieve on hard woods, or curly/reversing grain. You will also get great results on soft woods too, especially if there are changes in grain direction as you will be able to plane both with and against the grain. 
The style of this plane is excellent as you use the plane square on (either behind or in front depending on whether you are pushing or pulling the plane). Having the option to push or pull the plane makes certain jobs easier, for example planing a table top. You can push the plane half way through the table and then pull it from the other end of the table, meaning you are getting a full length shaving.  It also means your body is more in balance. The handle on this plane is removable on a taper if required. 
This plane is made from gidgee and is 210mm long x 67mm wide x 38mm high, and has a weight go 0.9kg. It has the option of a 50mm wide x 6mm thick x 97mm long Tool Steel (TS) blade hardened to Rc 62-64, or a High Speed Steel (HSS) blade hardened to Rc 62. The HSS blade is ideal if you plan to reverse the plane to bevel up and use it as a scraper on hard timber.
Customer Reviews
11/14/2019
Anonymous
Australia
I recommend this product
Smoothing plane
This plane is of heirloom quality that can be passed down to your kid's (and they would love it). The finishing is superb and hss blade is worth the extra investment as it takes a beautiful shaving and holds a keen edge (caution when you remove it from the packaging as it is scary sharp!) I would definitely recommend this beautiful smoother for anyone who appreciates quality and demands performance. When I can afford it I definitely will be buying the shoulder plane next
10/10/2019
John. L
Switzerland
I recommend this product
Anti - Tearout Weapon of Choice
Its Gidgee vs Yew and yes sir I think its a KO (Knock Out) for tear out. I had a lot of it off of the planer and I am gradually taking it out with the smoother. The plane certainly isn't causing any and the grain in this Yew is mad *** ! Seems like every 2 inches it changes up. I gave the scraping option a try and that is wonderful as well. I will definitely order the HSS blade for that function. I have virtually no experience setting up wooden planes with the wedge (and certainly none with Asian style ones) but your videos make it so clear that I had no problem whatsoever and my mallet had a good breaking in. You can indeed get some very fine adjustments. The little palm smoother is super handy too, loving these tools. The side profile of these planes makes me think of Riva speed boats ! Its the first time I am working with yew and it is a lot harder than I had expected. Those clusters of pin knots are really tough. I believe that in ancient times it was considered a sacred wood which is probably the reason that yews are planted in graveyards here. Poisonous as **** though ! I am just cleaning up my doors and getting ready to fit them. Once again the smoother is shockingly efficient . There is absolutely no difference planing with the grain or against ! I got some real nice tight joints (for once) on my mortise and tenons. Doors are always tricky for me with twist. Astounded at how this blade holds an edge, I have only sharpened it once and that was a very quick one at that. I hope you liked the photos I sent you of planing the panels. Am quite pleased with that Yew. Cheers, John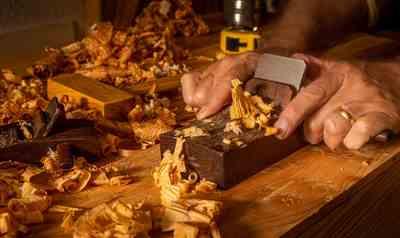 07/24/2019
Anonymous
Australia
I recommend this product
Smoothing plane review
Great, planes arrived within 3 working days of order. I find the plane easy to use and set up.
07/07/2019
guido g.
Australia
I recommend this product
Hi fi plane
I purchased the plane as a gift for my son .who has started a speaker building course in Sydney By all accounts he is thrilled as are his students